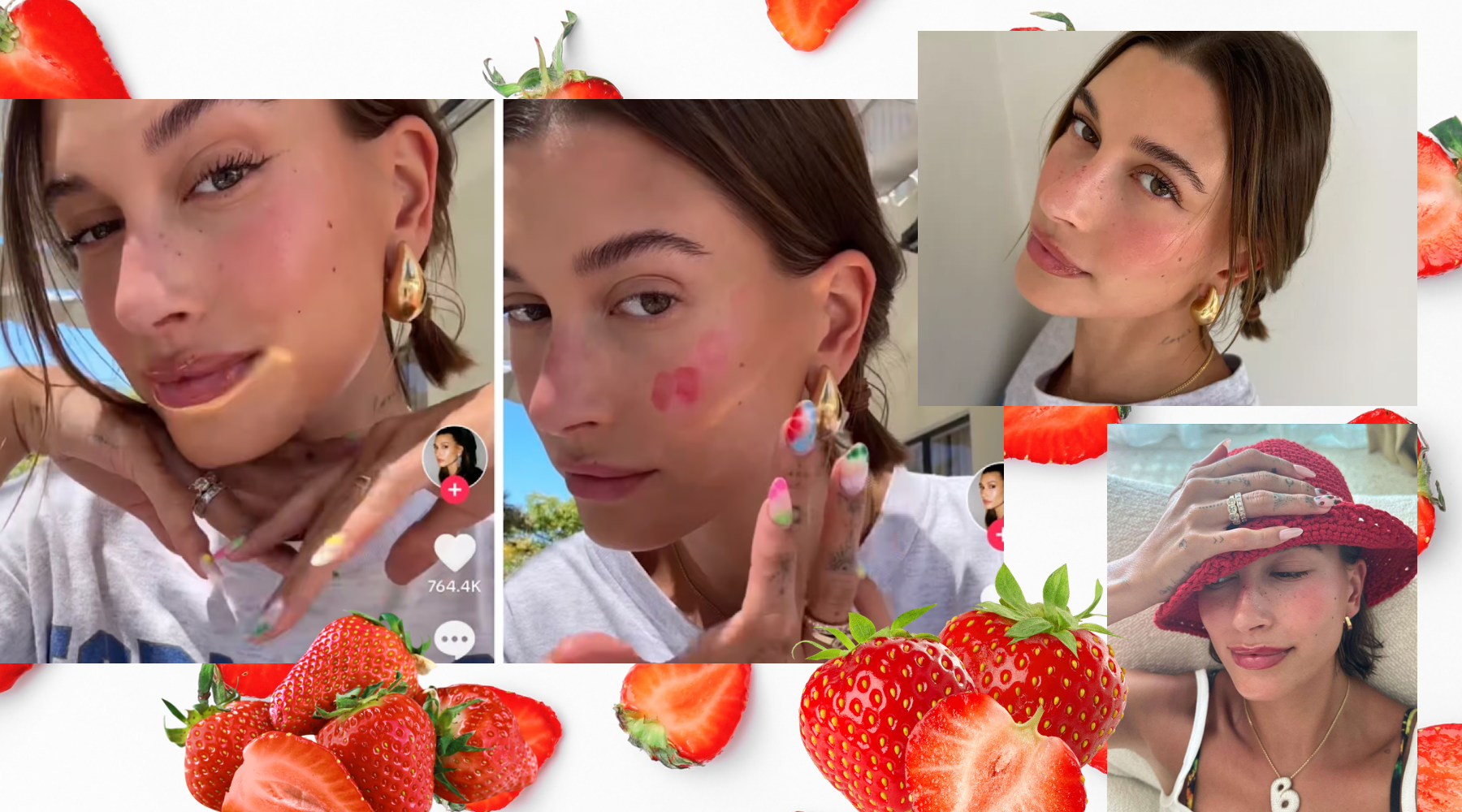 The reigning trendsetter of food-inspired beauty, Hailey Bieber, has unveiled the definitive makeup trend for the season: the enchanting "strawberry girl" makeup.
Embodying a softer, earthy allure, the strawberry girl makeup imparts a fresh, natural flush to your cheeks, adding a touch of dreaminess to any season. The best part? It's delightfully effortless, a makeup anyone can master. According to Michelle Clark, MAC senior artist, "Strawberry makeup is all about clean skin, a touch of bronzer, sheer glossy lips, and a focus on strawberry-hued blushed cheeks."
For those intrigued by this allure, luck is on your side. Bieber has kindly gifted beauty enthusiasts a TikTok tutorial, a step-by-step roadmap to recreating the coveted look.
The Ultimate Guide to Hailey Bieber' 

strawberry makeup look
Beginning with a skin-prep routine featuring Rhode Beauty Glazing Milk and Peptide Glazing Fluid (as she customarily does), Bieber then sweeps gel through her brows, illuminates her cheeks and hairline with Tom Ford's Shade And Illuminate Cream Contour Duo, and blends concealer beneath her eyes, on her nose contours, and lip corners using a broad brush.
The pivotal juncture lies in the application of two cream blushes, a light pink and a deeper shade, artfully blended along her cheek contours. Amidst this tutorial, Bieber tantalizingly hints at an impending Rhode Beauty release, playfully withholding the blushes' origin: "Can't say where the cream blushes are from," she teases, accompanied by a wink.
To complete the look, she bestows a "peachy" radiance to her eyelids using highlighter and bronzer, adds dainty freckles to her cheeks, defines her eyes with liner along the upper waterline, and enhances her lashes with mascara. The final flourish involves a neutral pink lip liner followed by the same dual cream blush application to her lips.
At the core of this look lies the blush, a quintessential product. While awaiting confirmation on Rhode's blush launch, alternatives like Pat McGrath's Divine Blush: Legendary Glow Colour Balm or Beautyblender's Bounce Liquid Whip Blush offer that natural "strawberry" flush. Clark suggests blending M.A.C. Cosmetics Glow Play Blushes in No Shame and Heat Index with fingertips to achieve the coveted strawberry hue. Whether adopting this exact style or seeking to elevate your makeup regimen, Clark advocates for blush's transformative role.
"Blush is my go-to for illuminating the face," she reveals. "It's a staple in nearly every look; though it need not always take center stage, its influence is undeniable. My top tip about blush is to experiment. Opting for creamy or cushion-like formulas facilitates blending and allows for forgiving application."
As for Bieber's signature glazed donut look, its fate remains uncertain. For now, let's relish in this captivating strawberry girl look, while eagerly anticipating a potential Rhode blush release. Stay tuned, as this space is bound to be brimming with news—we certainly will be watching.
Our selection
The most important product in this look is your blush. To get a natural-looking "strawberry" flush, we love these:
Pat McGrath Divine Blush: Legendary Glow Colour Balm

Best beauty buy winner Beautyblender Bounce Liquid Whip