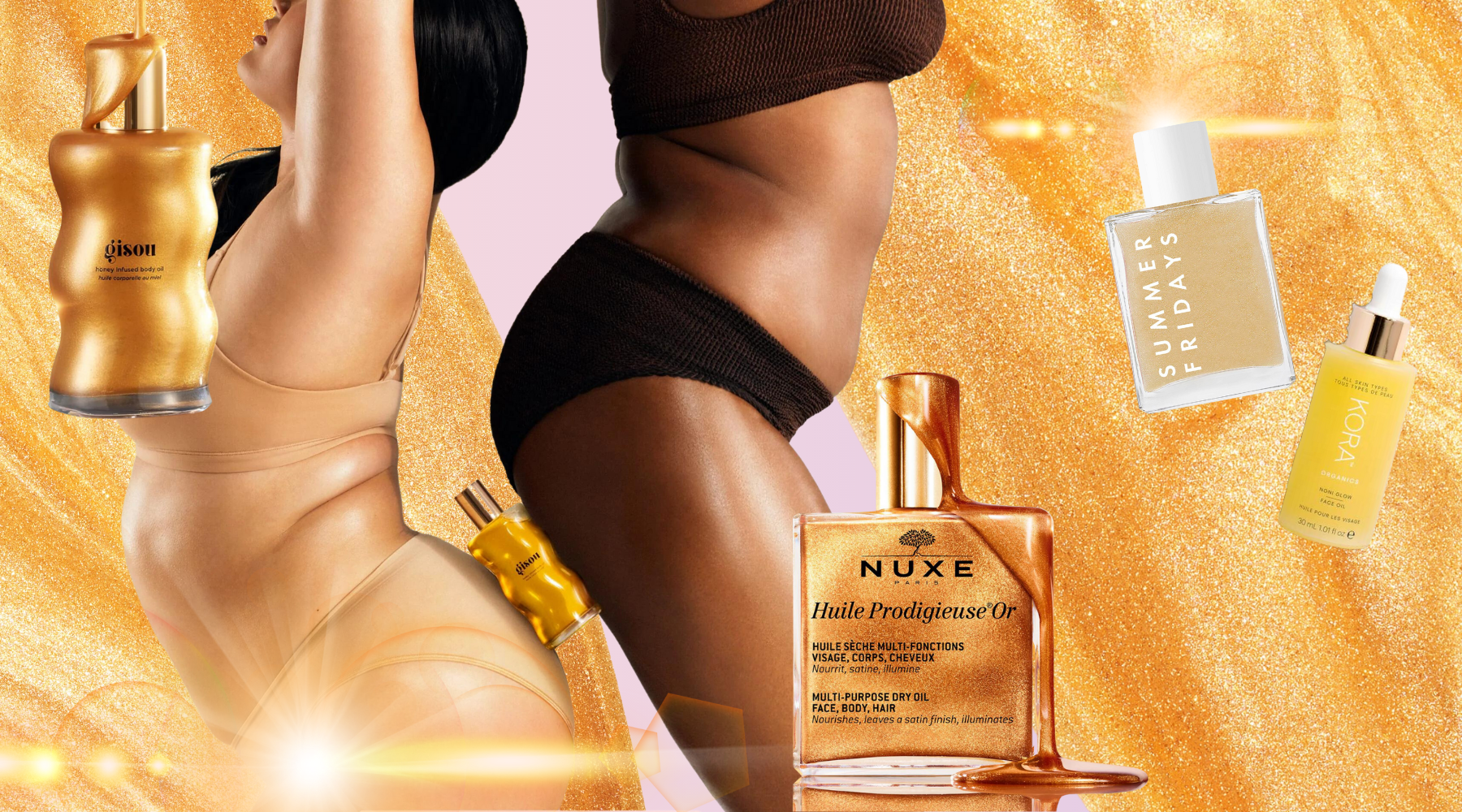 They represent the trio of summer skincare perfection: Moisturizing, luminous, and incredibly glamorous.
Welcome to the world of radiant luxury with the captivating allure of "body shimmer." While it's true that this enchanting elixir resides in the realm of opulence, the sun-kissed glow it imparts, especially during the summer months, makes it a worthwhile investment. It's not quite a self-tanner, although you'll find a myriad of tinted options, and it's not exactly a highlighter either. Rather, these lustrous treasures hold the power to transform lackluster skin into a luminous reverie.
While most body shimmers grace us in the form of lightweight, glistening oils, they also take shape as powders, lotions, and sticks, offering an array of choices to achieve your desired radiance. Whether your heart dances to the rhythm of a high-voltage, party-ready shimmer, or you simply yearn to bless your skin with a natural, nourished, and healthily radiant aura, rest assured, there's a body shimmer crafted just for you.
If memories of past body shimmers haunt you with images of clumpy glitter that clung stubbornly to the bottle, fear not – we were skeptics too. The good news is that today's body shimmers have gracefully evolved beyond those former woes. These exquisite, weightless formulas boast the presence of skin-loving ingredients, tenderly hydrating your skin while generously gifting it with a luminous sheen. Packed with light-reflecting particles, they offer a bucketload of radiance to your skin's very core. In essence, they are the ultimate summer skincare triumph.
Our cherished favorites not only feel divinely silky upon application but also grace your skin with a dazzling radiance that catches every glint of light. Swiftly drying down to prevent unwanted transfers, they leave behind no sticky residue, ensuring a seamless experience. Their unwavering commitment? Delivering a warm, sunlit glow that you can flaunt all year round.
In the grand tapestry of beauty, where luxury meets radiance, body shimmers have etched their luminous mark. So go ahead, indulge in the velvety embrace of these treasures – for they promise not only an enchanting aesthetic but also a radiant canvas upon which your inner glow can flourish.
Glowing radiance meets luxurious indulgence – that's the world of body shimmer. A realm where you can bask in luminosity without compromising your skin's health, body shimmer is a delightful concoction of allure and sophistication. In this guide, we dive into the essentials, exploring what makes a body shimmer truly remarkable and how to wield its transformative power effectively.
A Breath of Fresh Luxury: A Breathable Formula
When it comes to body shimmer, texture and sensation reign supreme. Imagine a product that feels as light as air, elevating your experience rather than weighing it down. Lozina, a skincare expert, underscores the significance of a breathable formula: "Treat the skin on your body with equal care as your face." Pore-clogging ingredients are out, while jojoba oil-based formulations that nurture your skin and infuse it with antioxidant benefits take center stage.
Transcending Boundaries: The Transfer-Proof Miracle
Similar to the world of self-tanners, the art of body shimmer requires mastering the art of transfer-resistance. Adenoga, a beauty connoisseur, suggests embracing a lightweight, non-greasy formula, such as a dry oil, as your starting point. The key lies in seeking products specifically engineered to resist transfers, ensuring your attire remains pristine. The application process plays a vital role; patience is the virtue that ensures the product dries down effectively, ready to bless your skin with its luminous charm. If transfer worries persist, seal the deal with a setting spray, safeguarding your color and shimmer. Embrace fabrics like silk for a seamless experience, steering clear of textures that invite transfer.
A Tint of Radiance: Choosing Your Hue
Body shimmers come with a spectrum of options: tinted or untinted, a choice that reflects your personal preference. Lozina recommends the allure of tinted body shimmer, ideal for enhancing collarbones and shins, casting a warm glow on your night out. On the other hand, the untinted variant caters to those who cherish their natural skin tone, adding a touch of shimmer without altering its essence.
The Shimmer Symphony: Deciphering Radiance
Shimmer plays the starring role in the body shimmer realm, influenced by formulation and applicator. Embrace the diversity – from oils and creams to powders resembling bronzers, each a unique entity in itself. Lozina explains, "It's all a personal preference." Reflect on your desired effect; do you crave a subtle, everyday radiance or a bold, dramatic glow for your evening soiree? The options are endless, ranging from delicate particles for a refined effect to grandiose flakes for an extravagant statement. Starting with a softer option and layering for intensified radiance often proves the wisest course of action.
Our Faves
What we love: Honey Infused, fast-absorbing, 98% natural formulation, hydrate the skin and scintillating !
Summer Fridays Pool Time Glowing
What we love: It's vegan, cruelty-free, and made using clean ingredients.
What we love: It dries quickly for a subtle and radiant glow
Supergoop! Glowscreen Body SPF 40
What we love: It protects and hydrates your skin without feeling greasy.
What we love: Rich, yet gentle, certified organic, vegan & 100% natural origin.
Your Queries, Addressed
What is the Purpose of Body Shimmer?
Body shimmer is not merely a product, but a playful celebration of luminosity. As Lozina affirms, it offers a radiant glow devoid of the perils of tanning. With the sun's detrimental effects on our skin, body shimmer steps in as a vibrant, health-conscious alternative. "A little healthy glow," she muses, is a confidence booster that transcends seasons.
Is Body Shimmer Beneficial for the Skin?
The goodness of body shimmer hinges on its composition. Lozina emphasizes clean formulations with non-comedogenic ingredients, guiding you toward choices that prioritize your skin's well-being. She advocates exfoliation before application to ensure optimal absorption and efficacy.
Mastering the Art of Application
The realm of body shimmer need not be messy. Lozina's instructions offer a graceful approach: apply the product on clean, dry skin post-exfoliation, allowing it to air dry for 5-10 minutes before dressing. This process prevents unsightly mishaps and sets the stage for an even, luminous glow.
In the enchanting universe of body shimmer, luxury is redefined through breathability, transfer-proof elegance, tinted possibilities, and the poetry of shimmer. An artful blend of science and radiance, body shimmer invites you to embrace your unique luminosity, turning your body into a canvas of exquisite allure.