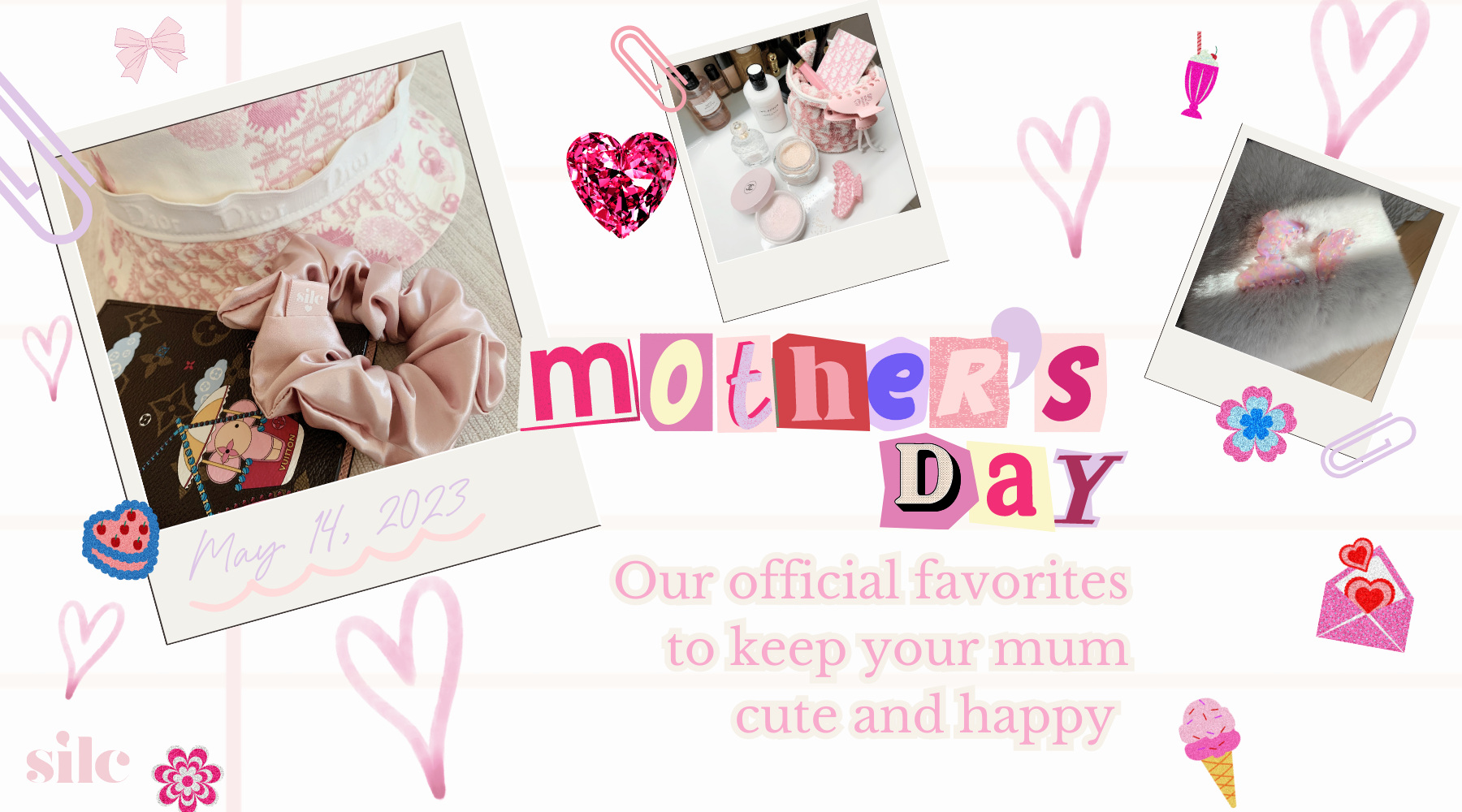 What Gift to Offer on Mother's Day? Mother's Day is fast approaching, and it's time to start thinking about how to show your appreciation for the special woman in your life. Whether it's your own mother or a mother figure, finding the perfect gift can be a daunting task. That's why we've put together a list of our top picks to help you find the perfect gift.
Silc, Cloud Candy Silk Pillowcase
Our silk pillowcase from our cloud candy collection is made from 100% pure mulberry silk, which is the highest quality silk available. It is soft and smooth to the touch, which provides a luxurious feel that's gentle on the skin and hair. The silk material is also naturally hypoallergenic and resistant to dust mites, making it a great choice for people with allergies or sensitive skin. This pillowcase can help to prevent hair breakage, reduce frizz, and minimize wrinkles, all while providing a comfortable sleeping experience. It's a great gift for mothers who appreciate the finer things in life and value self-care.
Assouline Book, Mother and Child
This beautiful coffee table book is the perfect gift for any mother who loves photography and art. It features stunning images of mothers and children throughout history, accompanied by thoughtful quotes and passages.
Lueur des Sens, Limited Edition Fig Candle
Made in Geneva, this limited edition candle is a luxurious and unique gift. The fig scent is warm and inviting, perfect for creating a cozy atmosphere in any room.
Tom Ford, Rose Prick Eau de Parfum
Available at Bongenie Grieder in Lausanne or Geneva, this elegant fragrance is perfect for the sophisticated mother who loves a touch of luxury. With notes of Bulgarian rose, Turkish rose, and rose de Mai, it's a truly indulgent scent.
Chantecaille, Lipstick in Crocus
Also available at Bongenie Grieder in Lausanne, this beautiful lipstick is a great choice for the mother who loves makeup. The Crocus color is a subtle and elegant shade that complements any skin tone.
Silc, Silk Scrunchies
Our silk scrunchies are available in both skinny and large sizes, and are made from pure mulberry silk. They're gentle on the hair and help to prevent breakage and damage, while also reducing frizz and preserving hair styles. The silk material is also soft and smooth, which means it won't tug or pull on the hair. These scrunchies are a practical and stylish gift for mothers who want to protect their hair and maintain a polished look.
Blue Flowers Florist
If you want to surprise your mom with a beautiful bouquet of flowers, look no further than Blue Flowers in Lausanne. They offer a wide range of options, from classic roses to more exotic blooms.
Seally Mimi, Semi-Precious Stone Bracelets
Available at Baroque Rococo in Lausanne or online, these beautiful bracelets are made with semi-precious stones and are perfect for the mom who loves jewelry. They come in a range of colors and styles to suit any taste.
Davroe, Australian Haircare Gift Set
Enter the contest on Bluety's Instagram page (@bluety.ch) for a chance to win a luxurious haircare gift set from Davroe, an Australian brand known for its high-quality natural ingredients.
Confiserie Wuthrich, Giscards
If your mom has a sweet tooth, treat her to some delicious Giscards from Confiserie Wuthrich in Lausanne. Available in both milk and dark chocolate, they're the perfect indulgence.
Mouchkine, Pink Poodle Brooch
Made in France and available at Baroque Rococo in Lausanne, this unique brooch is perfect for the mom who loves quirky and eclectic accessories. The pink poodle design is sure to make a statement.
Palais des Thés, Infusion Sur un Nuage
Located in Lausanne, Palais des Thés offers a range of premium teas and infusions. The Sur un Nuage infusion is a calming blend of chamomile, lavender, and lime tree that's perfect for unwinding after a long day.
Villeroy & Boch, Rose Garden Candle
Available at Globus, this beautiful candle has a delightful velvet rose scent and comes in a stylish white vessel. It's a great gift for the mom who loves to create a warm and inviting atmosphere in her home.
Baobab Collection, Frida Candle
Also available at Globus, the Baobab Frida Candle is a large, fragrant candle that's perfect for the mom who loves luxury home accessories. It features notes of saffron, ginger, and amber, creating a warm and spicy scent.
Clarins, Spring Box
This set includes 12 Clarins skincare products, including face serums, moisturizers, and body oils. Each product is formulated with natural ingredients and is designed to nourish and rejuvenate the skin. This could be a great gift for moms who love to take care of their skin and enjoy trying out new beauty products.
Ladurée, 12 Macarons Tiara Box
This box contains 12 delicious macarons from the famous French pastry shop Ladurée. The macarons come in a beautiful tiara-shaped box and are available in a variety of flavors. This could be a great gift for moms who love sweets and appreciate the finer things in life. This item is available both in-store and on the Rue de Bourg 3, in Lausanne.
Charlotte Tilbury, Pillow Talk Lipstick
This is a highly sought-after lipstick from the makeup brand Charlotte Tilbury. The shade Pillow Talk is a flattering nude-pink color that looks good on a wide range of skin tones. This could be a great gift for moms who love makeup and want to add a luxurious lipstick to their collection. Available on Zalando.
Kora Organics, Rose Quartz Heart Facial Sculptor
This facial sculptor is made from rose quartz crystal and is designed to help contour and sculpt the face. It can also help improve circulation and reduce puffiness. This could be a great gift for moms who are interested in natural beauty products and enjoy incorporating self-care practices into their daily routine. Available on Revolve.
Aux Merveilleux de Fred, Coffret de 10 Minis Merveilleux
This set includes 10 mini merveilleux, which are a type of French pastry made from meringue and whipped cream. The merveilleux come in a variety of flavors, including chocolate and raspberry. This could be a great gift for moms who love dessert and appreciate the art of French pastry-making. This item is available at their boutique located at Boulevard de Grancy 20, in Lausanne.
Chanel, Hand Cream
This is a luxurious hand cream from the iconic fashion and beauty brand Chanel. The cream is rich and moisturizing and has a subtle, floral scent. This could be a great gift for moms who love to pamper themselves and appreciate high-end beauty products. This item is available at Manor in Lausanne or Geneva.
Silc, Bold Clip in Pink Marshmallow
Our claw clips are made from plant-based cellulose acetate in a beautiful pink marshmallow color. They're designed to hold hair securely in place, while also adding a touch of elegance and sophistication to any hairstyle. Our clips are a great alternative to harsher hair accessories that can damage or break hair, and they're gentle enough to use on all hair types. They're a versatile gift for mothers who love to experiment with different hairstyles and accessories.